It's Kayshli Baby! - Bio
Kayshli is not just an artist, she's an experience
What's the story behind Kayshli?
Kayshli is an independent artist residing in Kissimmee, Florida sharing her unique Flow around the world! Kayshli was born and raised in Juncos, Puerto Rico which influenced her electric, and spicy music! "If you can dream it, you can do it", says Kayshli as her music journey got started since 2018 and she continues to create music for all her listeners to enjoy.
Kayshli has always been interested in music since she was a little girl. She used to always sing and once she moved to Florida, she began taking vocal lessons which played part in a band that performed live music for Ballroom dances. She used to sing "I will Survive" by Gloria Gaynor, "Bubbly" by Colbie Caillat, and "Last Dance" by Donna Summer. Performing in front of people encouraged her to embrace the power in her voice and she did not want to stop there. Being musically inclined, Kayshli and her three brothers decided to form a band called "The Rodz". They got to perform on various occasions their first song "Failure is not an option". Soon after that Kayshli began playing the Ukulele after her brother gifted her first instrument, when she turned 21.  
Kayshli was able to compose her first song called "Breathless" while only knowing the main four chords that she had learned from YouTube. From there she had the eagerness to continue growing and composing. Soon after that her brother Ramsys' friend Ovani, asked Kayshli if she wanted to be a part of one of his songs, and she agreed. The song was called "Desilucion" and that inspired Kayshli to go for even more. She then got with a producer she met and recorded her first Single – "Juego Del Amor" and released it with a Music Video as her first song. The reaction this project received was undeniably unexpected as people truly enjoyed it and supported it.
She has been working on her music independently doing collaborations with other artists locally but trying to expand to collaborate with other passionate artists outside of Florida. "There's no art without the idea" Kayshli states as she mentions her future collaborations with upcoming artists. Kayshli has a lot of new projects to show her versatility and has many unique songs that bring out a different vibe but influences her listeners in a positive way.
Kayshli has presented herself in a couple of different venues, including – El Caney, Aura Lounge, Latin Grill, Miguelo's Ultra Lounge, and many more leaving her listeners active, and mesmerized! One of Kayshli's song "Maldades" was streaming on 97.1 FM – La Mega and was also interviewed through DJ Dynamite on the Power Lunch. Soon she will be traveling outside of Florida to present herself and get people to discover her aura, and electric flow! Kayshli's focus as of now is growing and developing while sharing her most intimate feelings with her music, and be able to convey people toward a positive, and confident mindset. What sets Kayshli apart is her style, appearance, and perseverance personality that will help her strive and excel in this journey.
Kayshli is found on all social platforms like Spotify, Apple Music, Amazon Music, SoundCloud, etc., and her music videos are available on YouTube as she strategically markets and distributes her quality content for viewers to enjoy. For any business inquiries please reach out to kayshlibooking@gmail.com, and stay tuned for more electricity from Kayshli!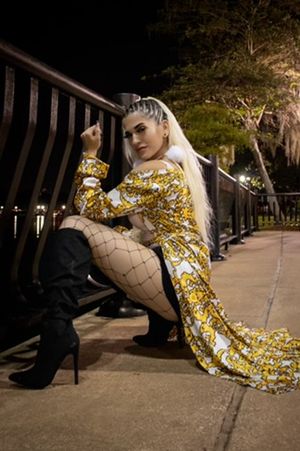 Es Kayshli Baby! - Bio en Español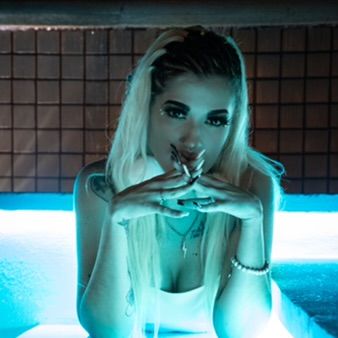 KAYSHLI NO ES SOLO ARTISTA, ELLA ES UNA EXPERIENCIA
Cual es la Historia detras de Kayshli?
¡Kayshli es una artista independiente que reside en Kissimmee, Florida y comparte su Flow único en todo el mundo! ¡Kayshli nació y se crió en Juncos, Puerto Rico, lo que influyó en su música eléctrica y picante! "Si puedes soñarlo, puedes hacerlo", dice Kayshli cuando su viaje musical comenzó en 2018 y continúa creando música para que la disfruten todos sus oyentes.
Kayshli siempre ha estado interesada en la música desde que era una niña. Solía ​​cantar siempre y una vez que se mudó a Florida, comenzó a tomar lecciones de canto en las que participó en una banda que tocaba música en vivo para bailes de salón. Solía ​​cantar "I will Survive" de Gloria Gaynor, "Bubbly" de Colbie Caillat y "Last Dance" de Donna Summer. Actuar frente a la gente la animó a abrazar el poder de su voz y no quería detenerse ahí. Con inclinaciones musicales, Kayshli y sus tres hermanos decidieron formar una banda llamada "The Rodz". Llegaron a interpretar en varias ocasiones su primera canción "El fracaso no es una opción". Poco después, Kayshli comenzó a tocar el ukelele después de que su hermano le regalara su primer instrumento, cuando ella cumplió 21 años.
Kayshli pudo componer su primera canción llamada "Breathless" mientras solo conocía los cuatro acordes principales que había aprendido de YouTube. A partir de ahí tuvo las ganas de seguir creciendo y componiendo. Poco después, la amiga de su hermano Ramsys, Ovani, le preguntó a Kayshli si quería ser parte de una de sus canciones, y ella estuvo de acuerdo. La canción se llamaba "Desilucion" y eso inspiró a Kayshli a ir por más. Luego se reunió con un productor que conoció y grabó su primer sencillo: "Juego del amor" y lo lanzó con un video musical como su primera canción. La reacción que recibió este proyecto fue innegablemente inesperada ya que la gente realmente lo disfrutó y lo apoyó.
Ha estado trabajando en su música de forma independiente haciendo colaboraciones con otros artistas a nivel local, pero tratando de expandirse para colaborar con otros artistas apasionados fuera de Florida. "No hay arte sin la idea", afirma Kayshli mientras menciona sus futuras colaboraciones con artistas futuros. Kayshli tiene muchos proyectos nuevos para mostrar su versatilidad y tiene muchas canciones únicas que generan un ambiente diferente pero que influyen en sus oyentes de manera positiva.
Kayshli se ha presentado en un par de lugares diferentes, incluidos: El Caney, Aura Lounge, Latin Grill, Miguelo's Ultra Lounge y muchos más, ¡dejando a sus oyentes activos y fascinados! Una de las canciones de Kayshli, "Maldades", se transmitió en 97.1 FM – La Mega y también fue entrevistada a través de DJ Dynamite en el Power Lunch. ¡Pronto viajará fuera de Florida para presentarse y hacer que la gente descubra su aura y flujo eléctrico! El enfoque de Kayshli a partir de ahora es crecer y desarrollarse mientras comparte sus sentimientos más íntimos con su música y ser capaz de transmitir a las personas una mentalidad positiva y segura. Lo que distingue a Kayshli es su estilo, apariencia y personalidad perseverante que la ayudarán a esforzarse y sobresalir en este viaje.
Kayshli se encuentra en todas las plataformas sociales como Spotify, Apple Music, Amazon Music, SoundCloud, etc., y sus videos musicales están disponibles en YouTube mientras comercializa y distribuye estratégicamente su contenido de calidad para que los espectadores lo disfruten. Para cualquier consulta comercial, comuníquese con kayshlibooking@gmail.com y esté atento a más electricidad de Kayshli.